Storm inlet filters reduce job site flooding, minimize residential complaints with cleaner and dryer streets during all construction phases, and keep projects running smoothly.
S3 offers a complete array of on-grate filters and catch basin inserts to comply with E&S requirements as well as significantly reduce job site cleanup costs and prevent siltation and pollution of rivers, lakes, and ponds.
Products
MKB Blackhawk Inlet Filter Mat
FlexStorm
Suntree GISB
Applications
Sediment Filtration
Flooding and Ponding Prevention
Pollution Control of Waterways
Erosion and Sediment Control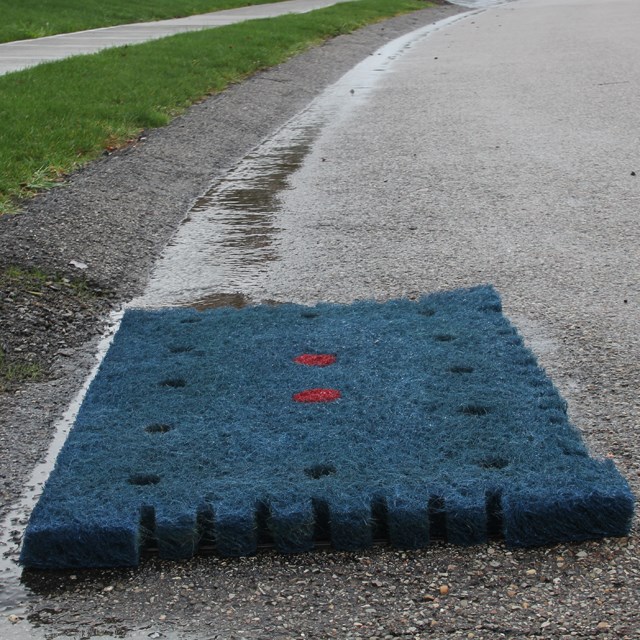 ​Blackhawk Inlet Filter Mat
Lab tested to provide protection from sediment and debris buildup, Blackhawk Inlet Filter Mats help to prevent street flooding. Offering easy maintenance with a reusable design, these mats stop debris during construction projects.
Benefits
On-grate
Secured with industrial strength magnets
100% surface visible, enabling car inspections
PennDOT and PA DEP approved
Applications
Sediment Filtration
Pollution Control of Waterways
Construction
Erosion and Sediment Control
Suntree ​Grate Inlet Skimmer Box™
Specialized inlet filter designed using marine grade fiberglass and stainless steel to provide maximum durability and longevity. These boxes use a six stage filtering system designed to capture all types of sediment, with the end result being a dry storage for easy removal by a vacuum truck.
Benefits
Under-grate
Will not impede inlet flow
Easy vacuum truck servicing
Bypass openings prevent clogging
Applications
Sediment Filtration
Pollution Control of Waterways
Post Construction Stormwater Management BMP
Product Videos
We Feature:

We Carry: